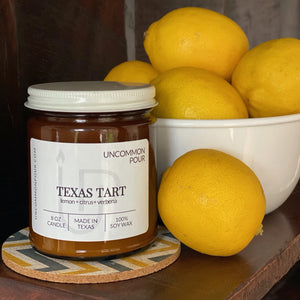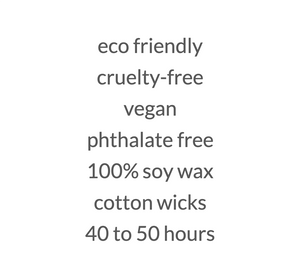 TEXAS TART is lemon, lemon and more lemon with a hint of verbena.  It's a super refreshing spring and summer fragrance, but also perfect for any season.

CANDLE:  This decorative hand-poured soy candle looks great with any decor and makes for a perfect accent to any room.  Our jars are recyclable and reusable.  

INGREDIENTS:  Every candle is made with wax from 100% American grown, natural soy beans, the finest fragrance oils, and a natural cotton wick for a long-lasting, clean and even burn.  The fragrances we use are paraben-free, phthalate-free, and are never (ever) tested on animals. 
8 oz candles are perfect for single rooms and bathrooms.  40-50 hours
16 oz candles cover a larger space such as a living room.  80-100 hours

GET THE MOST OUT OF YOUR CANDLE:  We suggest a minimum of 3 to 4 hours per burn for maximum longevity and even wear.  Do not pick up a burning candle. Trim the wick to 1/4" before each use.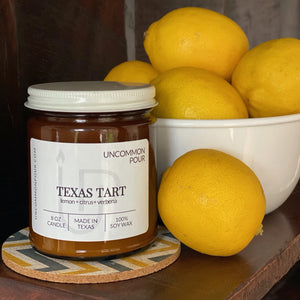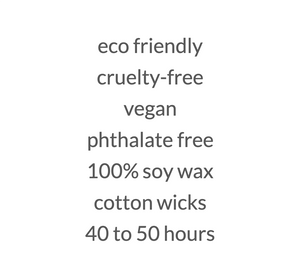 Love this, it smells amazingly refreshing.
This is such a clean summer scent! Lemon goodness and very fresh!