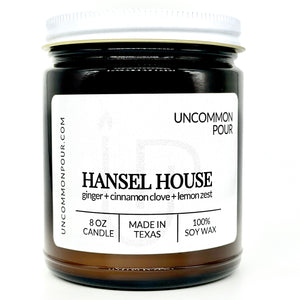 Uncommon Pour
Hansel House
HANSEL HOUSE is ginger, spice and everything nice! This fragrance oil is infused with natural essential oils, including clove, ginger and orange, along with nutmeg, cinnamon, citrus and vanilla. Hansel grew up and this is his candle. 
CANDLE:  This decorative hand-poured soy candle looks great with any decor and makes for a perfect accent to any room.  Our jars are recyclable and reusable.  

INGREDIENTS:  Every candle is made with wax from 100% American grown, natural soy beans, the finest fragrance oils, and a natural cotton wick for a long-lasting, clean and even burn.  The fragrances we use are paraben-free, phthalate-free, and are never (ever) tested on animals. 
8 oz candles are perfect for single rooms and bathrooms.  40-50 hours
16 oz candles cover a larger space such as a living room.  80-100 hours

GET THE MOST OUT OF YOUR CANDLE:  We suggest a minimum of 3 to 4 hours per burn for maximum longevity and even wear.  Do not pick up a burning candle. Trim the wick to 1/4" before each use.