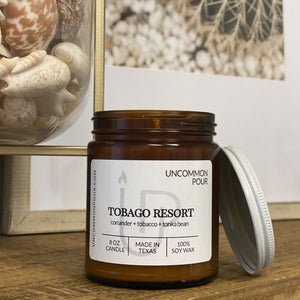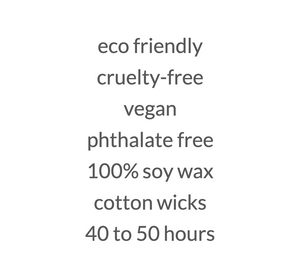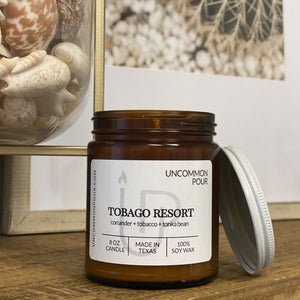 Uncommon Pour
Tobago Resort
TOBAGO RESORT is one of our best sellers!  We combine the warm scent of coriander, sweet smoky  leaf and tonka bean.  The fragrance is warm and intoxicating. 

CANDLE:  This decorative hand-poured soy candle looks great with any decor and makes for a perfect accent to any room.  Our jars are recyclable and reusable.  

INGREDIENTS:  Every candle is made with wax from 100% American grown, natural soy beans, the finest fragrance oils, and a natural cotton wick for a long-lasting, clean and even burn.  The fragrances we use are paraben-free, phthalate-free, and are never (ever) tested on animals. 
8 oz candles are perfect for single rooms and bathrooms.  40-50 hours
16 oz candles cover a larger space such as a living room.  80-100 hours

GET THE MOST OUT OF YOUR CANDLE:  We suggest a minimum of 3 to 4 hours per burn for maximum longevity and even wear.  Do not pick up a burning candle. Trim the wick to 1/4" before each use.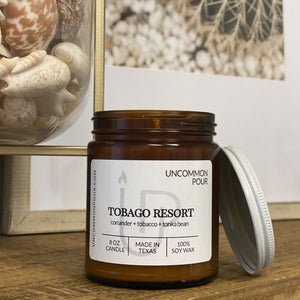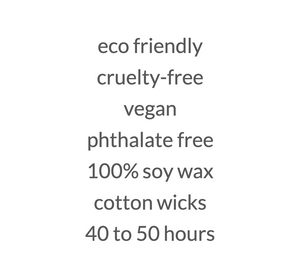 I love this candle. It smells similar to my favorite scent, Moroccan Amber from Nest, but I love that it's not as intense. You can burn it all day and this candle never overpowers a room. Instead, it fills your space with a warmly exotic and ambient scent. I want to light it every day.
Fast ship and great scent.
This scent fills my whole house. It's warm tabacco mixed with a hint of sweet but not overly sweet. The candle is also a decent size and I rest easy knowing it's soy and not filled with chemicals.
Favorite scent ever!
Vanilla + tobacco might be the best candle ever!